Shop Local Buy Local Small business Saturday-Grafton Arts Mill
Between Black Friday and Cyber Monday sits Small Business Saturday®, a day dedicated to helping small businesses and their communities.
and we want to encourage you to Shop Small® with us on November 24th.
ANNOUNCEMENT! THE ARTS MILL will have EXTENDED HOLIDAY HOURS:
THURSDAY – 11AM TO 7PM & SUNDAY – 12-4PM
---
Arts Mill Holiday Promotions:
| | |
| --- | --- |
| | On Small Business Saturday, we are excited to offer a promotion by one of our Arts Mill Artist, Becca Mulenburg. Mention the phrase "I Like Birds" at checkout at The Arts Mill and receive $2 off any signed print by Becca Mulenburg. Offer valid through Dec.23rd. |
---
December 8th, 11-5 and December 9th, 12-4 at the Arts Mill.
Artist and Arts Mill Manager, Paula Christensen will be hosting Paula's Palette Wearables Holiday Sale! All hand painted wearable's will be discounted 25% for the Holidays Gift Giving season. Orders for the holidays will be accepted these 2 days at the discounted price. Come in for something warm to drink – The Arts Mill (1300 14th Ave, Grafton).
---
| | |
| --- | --- |
| | Balancing Arts Yoga and Well Being Studio will be hosting a Holiday Sale!All items for sale in the shop (while supplies last) will be 20%. This includes items that would make meaningful gifts such as: Inspirational and Spiritual Books, yoga mats, beautiful hand made one-of-a kind yoga bags and eye pillows, candles, incense, jewelry, bamboo glass water bottles, clothing, etc… |
---
| | |
| --- | --- |
| All Moon Tide Design Jewelry items in the Arts Mill Boutique will be 20%. This includes items that would make special gifts such as: leather bracelets, semi-precious gem necklaces, word jewelry, dangle rings, balancing arts bracelets, and more! | |
Thank you for supporting Small Business Saturday 2012.
Yours truly,
NSAA's Arts Mill
---
Please share this poster with friends/family & collegues below: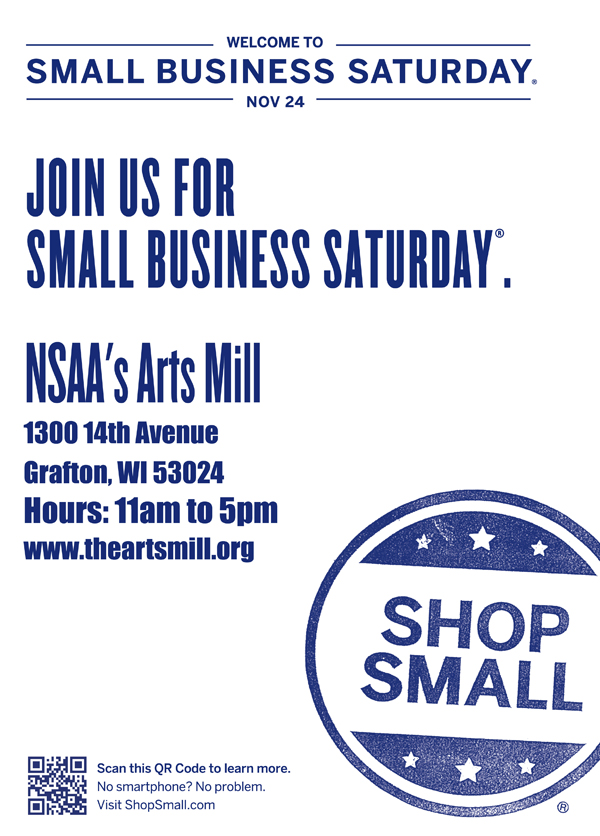 262.377.3516 | www.theartsmill.org